The boxer history
Hundreds of years ago dogs were bred for a reason. If man needed a dog to run fast, he bred for it, and if he needed a multi-purpose dog, capable of many skills including the ability to guard and to kill, to provide food, with enormous strength and courage, he bred for that too. This latter type of dog was known as a Mastiff. Depending on what they were used for they were also known among other things as: bullenbeisser (bull biter) or sau packer (sow Charger) these dogs were extremely valuable and it was a punishable offence to kill them. 

But in order to develop dogs for specific purposes the Mastiff was mated to various other breeds, when mated to the greyhound to big down big game the Great Dane was arrived at. For the actual kill, Man needed a sturdy and more compact type of dog. It is from this heritage that the Boxer was developed. 

The boxer is a direct descendant of this original bulldog as we call them. Bred to kill - a powerhouse of 30 kilos of highly manoeuvrable muscle and bone. It is not here to discuss the "why's" and where fore's of the bullfighting with dogs. Many say it was done to pump blood into the muscle of the beast and make it tenderer - who knows? But the bullenbeisser or bulldog was the dog for the job. 

The boxer is a recent addition to the boxer world and it is only just over 100 years ago that the first boxer Flocki was recognised and then registered as a boxer.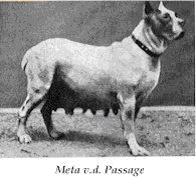 The boxer of today traces back to six specific animals - three females and of course three males. The females were Alt's Flora and her great, great granddaughter Meta v.d.Passage and Mirzl. The important stud dogs were Flock St. Salvator, Wotan and Bosco v Immergrun. 

General opinion is that Meta was the most important. A strongly built white parti-coloured bitch with brindle patches and the result of heavy in breeding on her great, great grand mother. Because of the fact that bitches can only have a limited effect because they have only so few litters - males took a hold and the CH. Rolf von Vogelsburg owned by Frau Stockmann became regarded as a dominant sire. But it was the later dogs of the von Dom kennels, which stamped the Boxer type into the breed. Firstly Ivein von Dom who although a dog who (according to Frau Stockman) hated showing and only got the grade excellent once, was a highly dominant sire producing progeny of the highest class. His son Sigurd was highly regarded as a show dog and also as a sire. For his time this natural showman had a perfect body good front and hindquarters and a noble head. He produced many important dogs including Xerxes von Dom, the litter mates Zeila , Zero von Dom and one more from this litter Zorn who was to have through one of his sons an even greater impact.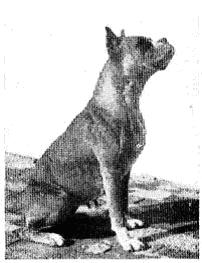 When mated to his half sister, Zorn produced a puppy who had a lot of white flash on his face and his pink nose took a long time to fill to the required black - such a pleasant little dog Frau Stockman called him Lustig von Dom. Lustig along with his grand father Sigurd, Dorian von Marienhof and Utz von Dom (result of a repeat mating of the Lustig litter) were known as the Immortals, and the impact they had on the Boxer world was not just in the show ring but also such that they were a major influence as sires for years later- both in Europe and in the USA where they all eventually went to live and there put the boxer on the map. At this stage in the history of the boxer there were very few in the UK and until the start of the Second World War there were only a handful of people involved and only one boxer became a Champion - CH Horsa of Leith Hill. But here too in the UK, Lustig von Dom was instrumental in the boxer's development. Although not here in body, his influence was felt through two of his children, Zunftig von Dom, who was owned by Allon Dawson and the bitch Alma von der Franckenwarte. 

Zunftig produced Stainburndorf Zulu, a dog present in so many of the early Champions and from Almas' line came the two Champion studs CH Panfield Tango and Ringleader. 

Through the 50's, the boxer in the UK (as in other countries where it was a reasonably new breed) had a number of lines stemming from effectively one or two lines. The predominance seemed to be both from Europe with the presence of dogs from Holland through the vom Haus Germania kennel and with Stainburndorf importing from von Dom in Germany. Others imported from the USA. Probably the two most famous of the time were : Mazelaines Texas Ranger (a full Brother to Bangaway of Sirrah Crest) and Raineylaines Sirroco.